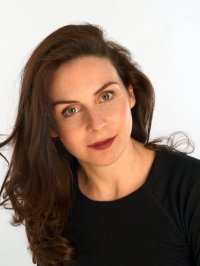 Lisa, is an entrancing mezzo soprano performing regularly with Opera Singing Waiters.  She studied voice in Australia, Italy and the United Kingdom and completed a Masters of Performance (Opera) from the Sydney Conservatorium of Music, and a Bachelor of Music Education and a Bachelor of Arts (Music), from the Queensland Conservatorium of Music in Australia.
She has worked as a professional singer for many years in Australia and the United Kingdom and has a wide range of professional performing experience. She has sung as a soloist at the Tri-nations Rugby League at Loftus stadium in London, the National Apex Conference, the Design Awards, and for audiences including the Australian Prime Minister at Angel Place Recital Hall in Sydney. Recordings include soloist for Telstra promotional video, Bolivar soundtrack (lead Manuela), and demo recordings for new composers.
The Habanera

- Lisa, singing waiter UK
"Dear Lisa, I have just been watching the video which seems to capture it all very well. Your performance was most musical and sensitive and very well received and I am grateful to all the soloists for putting on such a great show. I look forward to opportunities to work with you again in the future. All the very best"
Bob (Verdi Requiem Performance, Birmingham Symphony Hall)
My Funny Valentine

- Lisa, singing waitress
Opera work includes productions for Opera Queensland and Opera Australia in Australia, and many innovative companies in the United Kingdom. Roles performed include Orlofsky, Cherubino, and Siebel. Lisa also performs regularly with a classical and jazz ensemble in London at venues including Hampton Court House, Melbury House and Rivington Gallery in London.
"Acting and stage presence….riveting….beyond praise….envelopes the audience and transports it….."
Perform magazine, Review
Where accompaniment is concerned, she is also well experienced at singing with harpist, pianist, organist, string quartet, choir, a cappella, high quality recorded backing accompaniment and more. She is happy to work with musicians whom you've arranged independently, or to organise accompaniment per your request. If you are unsure of what you'd like, Lisa is happy to talk you through the options based on your venue.