The OPERA SINGING WAITERS are a fun and fantastic group of professional opera singers who will make your dinner party stand out above all others!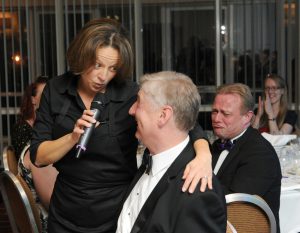 There are others out there who act as 'singing waiters' but none that do it with the same energy, style, talent and pure entertainment value as THE Opera Singing Waiters.
"What a performance, it was magical, thank you so much. Everyone was so surprised and they all loved it. The sound was perfect and your choice of music was brilliant. Your voice Sara is just wonderful and I would definitely use you again if ever I organise another dinner like that. It couldn't have been better it was wonderful."
– Ann (Opera Singing Waiters – Corporate Gala Dinner, Oxford)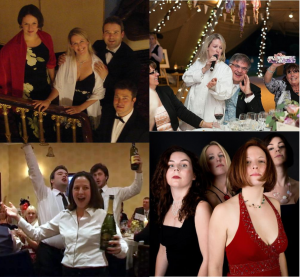 We perform for every type of event under the sun including wedding dinners, corporate parties, birthday celebrations, anniversary dinners, and holiday celebrations, and we perform throughout the UK.
If you want the best LOOK NO FURTHER!
We don't introduce ourselves with awkward speeches about our 'last day working here', a 'dare by the other staff', or an argument with one person or another.  We'll make a quick entrance to make you gasp, then laugh, then provide awe striking entertainment that your guests won't stop talking about… until they book us back for their parties!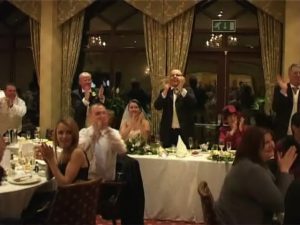 Our operatic singing waiters have been performing for dinner parties for a decade and have perfected the balance of fun, energy, gorgeous music and excellent and perfectly timed and tuned entertainment.  We are a close knit team of professional classical singers, graduated from the top music colleges, The Guildhall, Royal Academy, Royal College of Music, Trinity Collage, and international conservatoires who sing traditional opera, musical theatre, crossover and popular music. We believe that a great performance in any style will appeal to every mixed audience, and have witnessed this first hand time and time again!
"We are only now home in Scotland and feeling that we are getting back to normal after Fiona and Steve's fantastic wedding! The contribution of the fabulous singing waiters to the fun and success of the wedding party was immense! Every guest was bedazzled by your performance –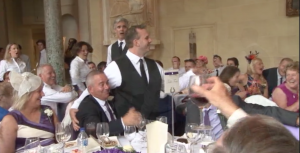 each song a thrill and your voices so spectacular. Your interaction was so much fun with all the guests singing and participating! Thank you so much for your excellence in every way! I would not hesitate for a heartbeat to recommend you!"
– Carolyn (Opera Singing Waiters – Wedding Dinner – Saddler's Hall, London)
We make booking outstanding and enthusiastically memorable entertainment for your special dinner party easy and stress free.  We will work with you to ensure that you are happy with the songs and format of music for your wedding, celebration dinner or corporate entertainment. With a wide repertoire of fun and entertaining popular opera, show tunes and crowd pleasing hits we are expert at entertaining and transfixing even the most mixed audiences young and old. We can provide suggestions based on any requests you have or recommend the perfect tried and tested programme to entertain every audience.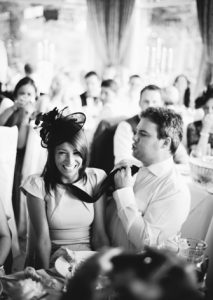 "This is my first day back after an extended Christmas and New Year break so I am very much in catch up mode. The PJH Christmas Party seems a long time ago but my Staff are still talking about it – a great time was had by all. My Staff and guests were absolutely delighted with the surprise appearance of yourself and Russell – a great surprise. The singing was superb with a very moving finale. Well done. I'm sure you'll have a busy 2017 and I wish you all the best."
– Peter (Opera Singing Waiters – Corporate Christmas Party – The Mary Rose Museum, Portsmouth)
The act usually performs with two, three or four singers with recorded orchestral accompaniment, pianist, or our unique a cappella ensemble of four singers performing in harmony without the need for any backing accompaniment.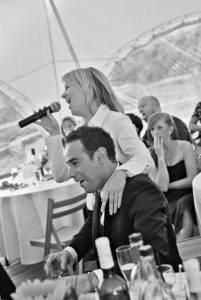 Our 'waiters' or other disguised performers (chefs, security personnel, guests, party crashers…) typically begin as we quietly blend with the regular staff and guests, creating a brief entertaining, UNIQUE and attention grabbing scene in the middle of the room at the appointed time, often just after the main course has been served though this is flexible depending on your plans, then we break into song. The performance is typically 20 minutes in length, but if you would like the performance to be more of a feature of your event we are happy to return after a short break and costume change reappearing, usually during desserts, in formal dress and sing for a second 20 minute set.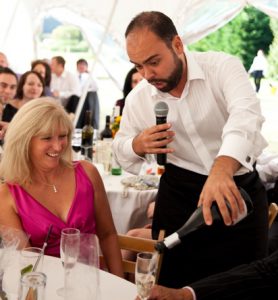 "I wanted to send you a note to thank you both for being part of our day yesterday. Everybody and I mean everybody commented on how much they enjoyed your performance and it was great how you'd been able to blend in with the LMQS team who also seemed to enjoy the experience!"
– Paul (Opera Singing Waiters – Wedding Anniversary Party – Belmond Le Manoir aux Quat'Saisons, Oxfordshire)
"Just have to say a HUGE "Thank you" to you and your "team" for the wonderful arrangement and rendition of all our favourite numbers last Friday at our daughter's wedding. To say it brought the house down would be an understatement!"
– Judy and Eamonn (Opera Singing Waiters – Wedding Dinner – Maidstone, Kent)
.  .  .  .  .  .  .  .  .  .  .
Contact us at:
info@operasingingwaitershire.uk